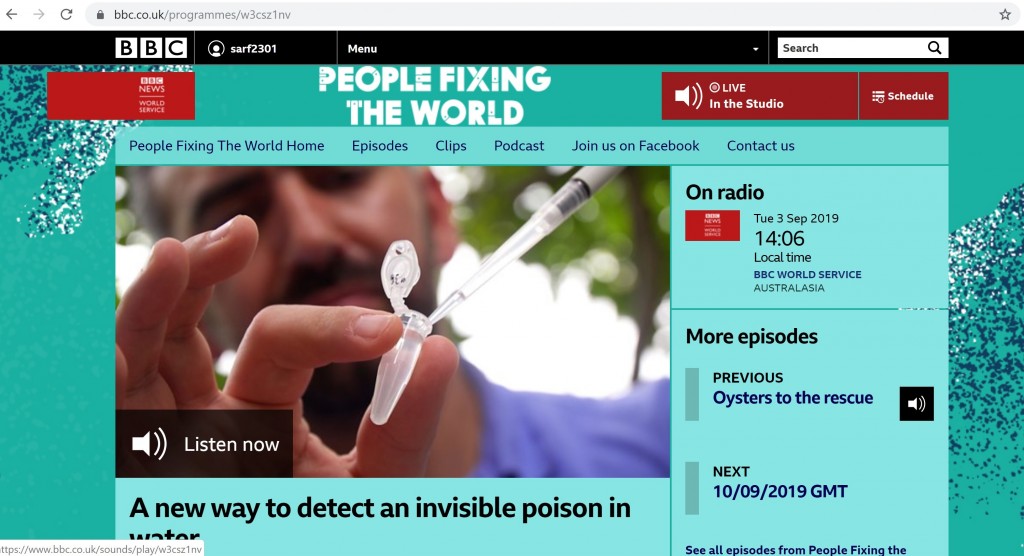 London, UK – 3rd September 2019
AquAffirm is pleased to announce that its innovative AquAffirm-As™ test for measuring concentrations of the deadly poison arsenic in drinking water has been featured in a programme on the BBC World Service and in the BBC podcast People Fixing the World. The programme includes an in-depth discussion of the scale of the problem, with a focus on its adverse impact in Bangladesh and includes interviews with Bangladeshis affected by the "largest mass poisoning of a population in history". The programme also includes an interview with AquAffirm CEO, Dr David Sarphie on location in Bangladesh and AquAffirm collaborator Prof Joanne Santini from her university laboratories in London.
The programme, called: "A new way to detect an invisible poison in water", is available at the following link: https://www.bbc.co.uk/programmes/p07m8bwt
To find out more visit: www.aquaffirm.com
About AquAffirm
AquAffirm is a development-stage environmental technology company commercialising proprietary technologies for monitoring and management of water quality, globally a $3.1 billion business. AquAffirm has developed the first-of-its-kind test for rapid measurement of arsenic in drinking water, addressing a problem affecting over 140m people in 70 countries, including Bangladesh, where tens-of-thousands die annually, as well as the USA, Mexico, Taiwan and Vietnam.
For more information, please contact Nanda Rahman on 00 44 207 544 8420 or e-mail nanda.rahman@aquaffirm.com.